Air Transport of Frozen Products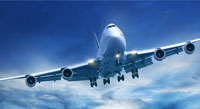 Business operations including air transport, sea-air transport and transfer transport of frozen foods from Ningbo and 
Shanghai international airports to those around the world, air business consulting and other business related to air 
transport. Our experienced business personnels can offer various transport plans with different routes and different 
freights to customers. Relying on our practical and robust style of work for years, we keep close and great business 
relationship with airline companies in the industry, win their support, and get their promises for best price and adequate
 space. Our successful operation experience for years is able to provide the best, the fastest and the most excellent
 services for customers.